July 22 is my birthday and this year I will have the treat of attending a Widespread Panic concert at Winter Park, CO on my birthday! I am hoping for good weather and safe travels.
This episode is an hour long special featuring various moments from shows I attended over the years. These aren't necessarily the 'best version ever' or anything - each was selected because I have a fond memory associated with each show. We'll kick everything off with the song that really 'grabbed my legs' and began my fascination and musical relationship with Widespread Panic.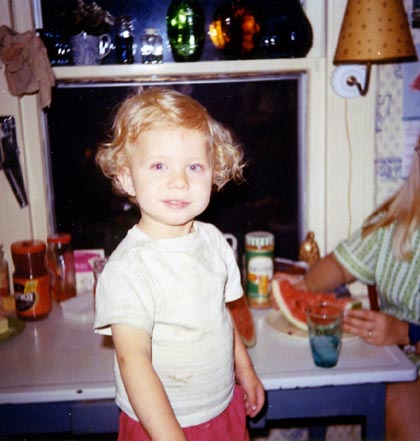 Ted circa 1971
July 22, 1992 Chicago, IL
Stop-Go
Lisa and I attended this show at Mississippi Nights in St Louis. We had sold our tickets for what would end up being the final Grateful Dead show which occurred on the same evening in Chicago. After the chaos of Deer Creek and the hassle of St Louis, our Grateful Dead touring days were already over. Fortunately a new adventure in our lives was under way even if we weren't aware of it yet. This Ain't No Use is pretty crazy and I remember being on the floor three people back from Dave just overwhelmed by the intensity of this song.
July 9, 1995 St. Louis, MO
Ain't No Use
On a whim Lisa, Maureen and I drove in the hot and humid midwestern heat for what seemed like 10,000 miles from Chicago to Ames, Iowa to see the band in a little bar. We woke up early, drove all day and saw a show that night. This was a very memorable trip including the discovery that the oil cap for the car's engine had been left off for about 200 miles. Where do you find an oil cap in the middle of a corn field? Plus the venue was serving giant 36 oz beers on special for $2. We did NOT wake up early the next morning.
July 16, 1994 Ames, IA
Early
I drove up to Minneapolis with Dennis Dahl to see this final show of the spring tour. We slept on the floor of his friend's home office and couldn't find anything to eat anywhere near the venue - I think we had seafood quesadillas at an upscale brew pub or something. In any case, every time I here this song it brings back the emotions I experienced on spring tour 1997 - sweet, strong, tight, welcoming and powerful.
May 10, 1997 Minneapolis, MN
Genesis
In one 36 hour stretch I bought a plane ticket to Atlanta, won tickets to the show in a chat room interview with Dave Schools, heard the first Pilgrims on tape at Brian Sofer's house, missed the CNN interview I had been invited to, went to the show, sold $100 worth of tape covers in the parking lot, met the manager of the Lakewood Amphitheater who set me up with my own box (the Delta box) and bought my first round of drinks, got rip snorting drunk, went backstage, broke down Sofer's front door, flew back to Chicago and then drove to Alpine Valley, WI for the Lollapooza festival. The Last Straw indeed.
July 26, 1997 Atlanta
Last Straw
This show was a miracle all the way around. We're in downtown Detroit before they built the new stadium. Dennis, Val, Lisa and I show up hungry and several hours early for the show. Dennis and Val are vegetarians and there isn't a food establishment within, what seems like, miles. But wait - what is that tiny hut in the middle of that parking lot across the street from the venue? It looks like the parking attendant's booth.... It is a middle eastern restaurant that specializes in vegetarian food! That sums up this amazing trip to Detroit - around each turn there were surprises but through it all we were Feelin' Alright!
May 1, 1997 Detroit
Feelin' Alright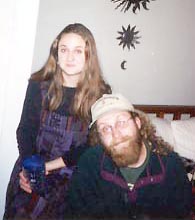 Lisa and Ted circa 1994
Thanks again to EVERYONE out there who have supported and helped us over the years with the project and on our journey to and from Panic shows. We really could not have done this labor of love without you. From the bottom of my heart, THANK YOU.
Get the cast here:
Everyday Companion Podcast #11
Click here to subscribe through the iTunes Podcast Directory.