August 12, 2006
Chicago Theatre
Barstools and Dreamers (with a sick rap by JB)
August 12, 2006
Outformation
House of Blues, Chicago
Post-Panic Party
Edgewater
Center Stage (with John Keane)
Tennessee Before Daylight (with John Keane)
Smoke and Burn (Burned Faceless)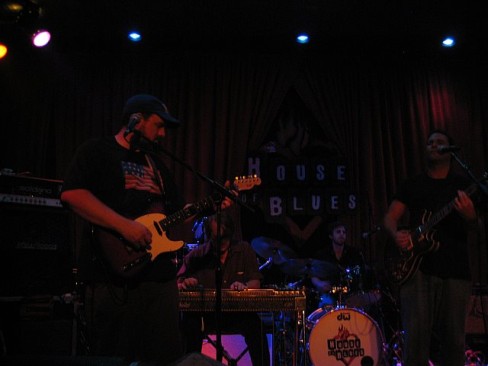 Go Completely Out!
The scoop on this CAST:
What a huge time I had in Chicago! Amazing venue, great company and beautiful weather.
I had the good fortune of being able to take the REST of my family (Mom, Dad and sister Katie) to the Friday night show. All four members of my immediate family seeing a show with me in a single summer - now that is an acccomplishment!
I think everyone had a wonderful time and it was a great way to start a solid weekend of music and friends. It was a pleasure to see each parent leave the theatre with a smile on their face! Thanks mom and dad for everything and for putting up with my antics fo the past 37 years!
The Barstools we feature this week is freaking crazy -
The PA was acting up to start the second set and it kicked back in just in time for the band to turn the corner into Barstools. JB must've been feeding off the nervous energy created during those tense minutes to start the set and gave the crowd a treat. The Thank You Falletten Me Be Mice Elf rap is great but then his 'Baby only knows...' rap is one for the books:
'Just watch that baby. Basically the first thought he got is like
'WHOA! WHOA! WHAT THE FUCK!!
And how long we gotta do it? Did I get it right, like 80 years?'
And that baby said 'OOOOOH! OOOOOH'
Then we feature several selections from the Outformation show that night just across the river at the House of Blues. A portion of this features John Keane on pedal steel. This show also had a palpable energy - I heard more than one person say they saw two of their top shows in one night!
Check out Outformation's summer/fall dates here - they are opening for Widespread in Charrlottesville!
http://foryouroutformation.com/tourdates.html
It was so great to see so many old friends again. Thanks to Dennis and Val and Tom and Ashley for letting me tag along on the pilgrimmage to Wishbone on Sunday. Thanks to Leigh and Jen for letting me invade your space in the 6th row on Saturday night. Thanks to Chris for the BBQ on Saturday and for showing me the late night on Sunday night.
And it was great to meet so many new friends as well -
to the nine year old who saw his first concert on Sunday night - I hope you had a great time and I wish you all the best in your journeys through life and music!
Peace, Ted
Download the cast here (right click to download file):
Everyday Companion Podcast #16
Click here to subscribe through the iTunes Podcast Directory.